Join us for a FIELD DAY on Saturday, August 10, 2019 at Bluebird Christmas Tree Farm in Heiskell, TN (near Knoxville)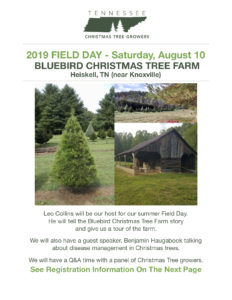 Leo Collins will be our host for our summer Field Day. He will tell the Bluebird Christmas Tree Farm story
 and give us a tour of the farm.
We will also have a guest speaker, Benjamin Haugabook talking about disease management in Christmas trees.
We will have a Q&A time with a panel of Christmas Tree growers.
REGISTER TODAY!
$5 Per Person for TCTGA Members $15 Per Person for Non-TCTGA Members
To register, go to: https://squareup.com/store/tennessee-christmas-tree-growers-association
The TCTGA 2019 Field Day on Saturday, August 10 
 will begin at 10am (Eastern) and conclude about 3pm.
Registration includes lunch, snacks and drinks.
 Adults and children can attend, but must register.
This event will happen rain or shine. Wear appropriate clothing and bring umbrella, etc.
Click below to see the full flyer about this event.